James McCue, a World War 2 veteran, was all alone when he passed away peacefully at the age of 97 in February 2017. The mad had outlived his entire family, so it was almost certain that his funeral nobody would attend his funeral. However, thanks to social media, James was sent off with the honor he so rightfully deserved.
A crowd consisting of hundreds of strangers had arrived to celebrate the life and mourn the loss of the decorated veteran's funeral. Locals in the city of Lawrence, Massachusetts, rallied together to create a post on Facebook, calling for the presence of anyone who could spare their time to attend. The post reached the Massachusetts Veteran's Service Secretary, which then forwarded the message and reached a broader audience. Hundreds upon hundreds of complete strangers took the streets to march and paid their final respects to a local hero.
His obituary stated that James McCue was born and lived almost his entire life in Lawrence. He had jobs in the hospitality industry, working in housekeeping and offering his services to a local hospital. A secretary at his former hospital tweeted out that James was greatly appreciated for his military service and had taken up arms in at least five battles during World War 2, including participating in the D-Day invasion that turned the tides against Nazi Germany.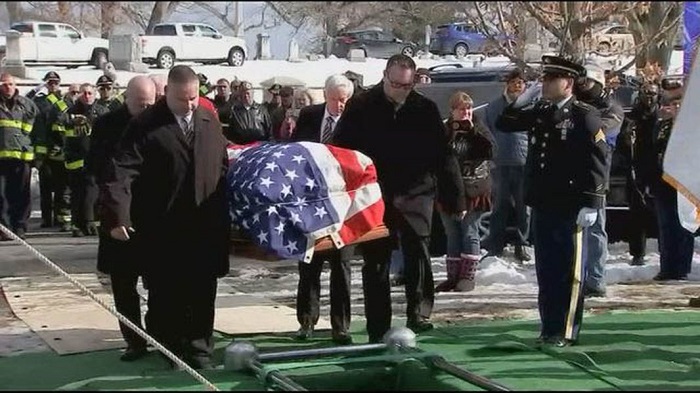 James McCue's final resting place is in Bellevue Cemetery's Veterans' Section earlier this week. The local police department posted a message on its Facebook page that showed how one of Lawrence's local heroes received full military honors. The police department also posted pictures of the hundreds of guests that had arrived to show their support and give James a final goodbye.
Not only did the crowd of strangers attend the funeral service, but several of them, many of whom claim to have never met James or spoken to him their entire lives, added a few words on the tribute wall for James' obituary.